Back to all posts
Posted on
E-NEWS Spotlight on Learning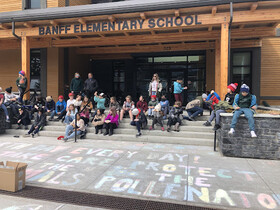 April 22 is Earth Day! As part of the Nature Explorers program, Lynx guided students to do a large chalk art mural focused on Earth Day Every Day and Care for Our Earth. Each grade did a portion of the mural on the sidewalk with the main portion being in front of our main entrance. The grade 5 and 6 students made signs to put on the lawn outside of the fence with sayings such as "save the ocean" and "protect the forests" or "reduce reuse recycle". Grade 4s did a garbage pickup in the school grounds and forest and parking lot areas.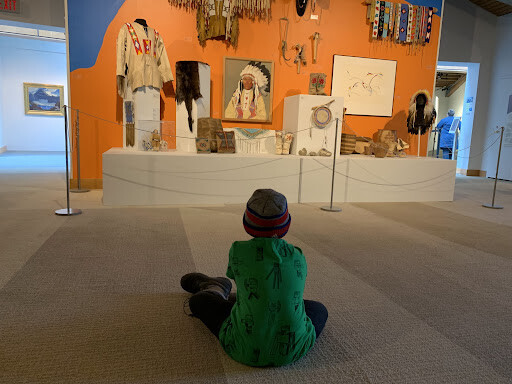 Grade 2 students learned about Banff's history and Indegenous relations through artifact exploration. The students sketched artifacts. They also learned about the importance of museums and galleries in preserving history through artifacts.

Important Upcoming Dates
April 26 - Grade 8 Transition Meeting at BCHS 6:30 pm
April 27 - Class Photo Day
April 27 - Suicide Awareness Parent Session at BES 3:30 pm
May 6 - Professional Development, 12:02 pm dismissal for Grades 1 - 8 No Kindergarten classes

Grade 8 Transition Meeting
A Grade 8 parent and student information night will be held on Tuesday April 26 at 6:30 pm at Banff Community High School. This will be a one hour session to welcome current Grade 8 parents and students to BCHS. We will go over topics including Grade 9 timetables, supports in our school, and extra curriculars. At the end of the session, parents will be given direction on how to sign their child up for option classes. *If your child is interested in attending Canmore Collegiate High School in Grade 9, CCHS will be hosting their transition meeting at CCHS on Monday, April 25 at 6:30 pm. Please contact Principal Chris Rogers (chris.rogers@crps.ca) to discuss this option.

World Hearing Day
March 3 was World Hearing day - "To hear for life, listen with care" The World Health Organization has taken "To hear for life, listen with care" as the theme for this year's World Hearing Day. It focuses on the importance and means of hearing loss prevention through safe listening. See this attachment for more information about the importance of recognizing this day. If you have concerns about your child's progress in school, please reach out to our Learning Support Teacher who can help determine strategies and interventions for success. Hearing might be something that needs to be addressed.

Next Year School Planning
Please help us in our planning for the 2022-2023 school year by letting us know if you intend for your child to continue with Banff Elementary School (or Banff Community High School if your child is currently in Grade 8) by completing this Intent Form by April 25. Children already attending Banff Elementary School do not need to complete a new registration, even if your child is in Grade 8 and going to Banff Community High School. Thank you to those that have completed the intent form already.

2022-2023 Kindergarten Registration
Please follow this link to view important information regarding 2022-2023 Kindergarten Registration. Don't delay, register today!

Suicide Awareness Rescheduled
You are invited to a Parent Session on Suicide Awareness hosted by Right from the Start, Ms. Butenschon, and Yvonne Law from the Town of Banff. This session will provide you with information such as what is suicide, the warning signs of suicide, and some tips on how to talk to your child about suicide. The session will be happening on April 27, at 3:30 pm at Banff Elementary School for about 1.5 hours. To register for the session, please respond here: Registration Form or email megan.jenniex@crps.ca so that we can be appropriately prepared. Tea and snacks will be provided.

Become a Host Family for CRPS International Students in 2022-23!
CRPS is looking for Canmore & Banff families to host our next incredible cohort of 50 international students arriving in August 2022! Make meaningful connections, share your different cultures, learn a new language, build life-long memories & friendships! Commitments of  5 months and 10 months are available, with monthly remuneration provided. For more information and to apply, contact international@crps.ca or 403-609-6072.

Town of Banff Children & Youth Programs
The Town of Banff offers a variety of programs for children and youth, including Out of School Care programs. For more information or to register your child, please call 403 762-1251 or visit https://banff.ca/195/Children-Youth. 

News from the Office
Volunteering
Banff Elementary School loves and greatly appreciates our volunteers! We require all volunteers who help in the school or on field trips to complete a Vulnerable Sector Check through the RCMP and sign a Confidentiality Contract as per Canadian Rockies Public Schools' Administrative Procedure 490 - School Volunteers and FOIPP. Prior to volunteering, please email your legal name to the school office at bes.info@crps.ca to request an RCMP Fee Waiver Letter and we will email you back the letter, required forms and instructions. Often Vulnerable Sector Checks can be completed by the RCMP within 24 hours. Please click here for more information on volunteering opportunities.
School Fees Now Due
Banff Elementary School fees are available on PowerSchool Parent Portal and are now due. Debit or credit card payments can be made online through your Parent Portal. If you are unable to make full payment at this time or have any questions, please contact Joanne Geyer at joanne.geyer@crps.ca. Please click here for instructions on how to make a payment using PowerSchool Parent Portal.

School Events Calendar
Please click here to view the BES Community Calendar.
| | |
| --- | --- |
| Apr 26, 2022 | Grade 8 Transition Meeting at BCHS 6:30 pm |
| Apr 27, 2022 | Class Photo Day |
| Apr 27, 2022 | Suicide Awareness Parent Session |
| May 6, 2022 | Professional Development, 12:02 pm dismissal for Grades 1 - 8 No Kindergarten classes |
| May 18, 2022 | BES Council AGM 3:30 pm followed by a regular meeting |
| May 20, 2022 | Full Day P.D. - no classes for students Grades K - 8 |
| May 23, 2022 | Victoria Day - School is closed |

School and Family Wellness Worker
Ashley Butenschon is here to help support families and students with their social and emotional well-being. Please contact her at 403-762-4465 ext 6089. One more way Canadian Rockies School Division is here to help support not only your child, but also your family.

Right from the Start
Right from the Start is happy to be at BES supporting your child's overall mental wellness! Join us Wednesday after school for a parent session on Suicide Awareness. BES Success Coaches can be reached by emailing Megan.Jenniex@crps.ca or Michelle.Skingle@crps.ca. You can also check out our website for resources or find us on social media.

Settlement Services
Settlement Services provides Permanent Residents of Canada, Live-In Caregivers and Refugees with the support they need to settle in the Bow Valley.  Please click the link for the Settlement Services April Newsletter.  More information about Settlement Services and a calendar of events is available at: www.banff.ca/settlement or follow on Facebook: www.facebook.com/settlement.services.in.the.bow.valley.

You can also check out our School Announcements here for more information - including information on Banff Springs Tennis Lessons & Camps, Banff Minor Soccer Registration and Rundle Riders. Please like us on Facebook for news and reminders.

Please follow CRPS on Facebook, and Follow/Tag us on Twitter, so you can stay up-to-date on all CRPS related issues, updates and information.