Back to all posts
Posted on
E-NEWS Spotlight on Learning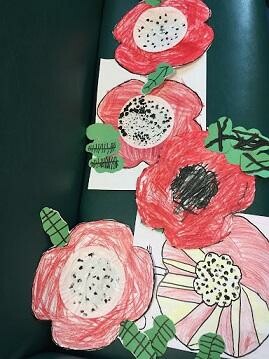 Kindy students made poppies to bring to the Banff Hospital next week.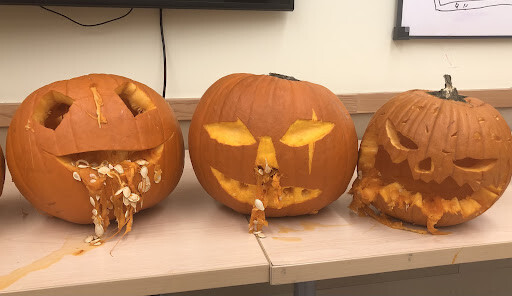 Grade 7 had lots of fun carving pumpkins last Friday!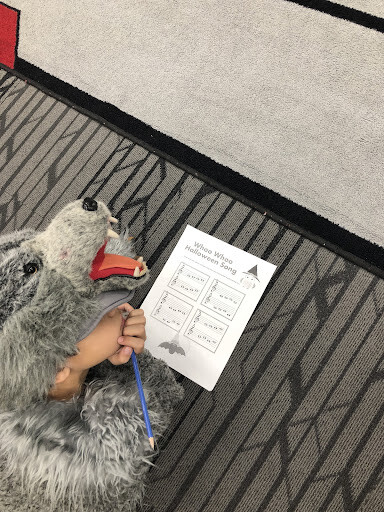 In Music, Div. 1 students were matching notes to the sounds they were hearing.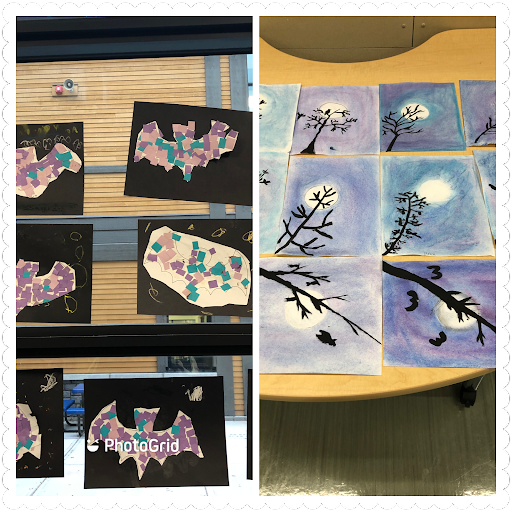 We see lots of beautiful art projects around the school. This is a Kindy and Grade 4 project.
Important Upcoming Dates
November 11 - School closed for Remembrance Day
November 12 - School Closure in lieu of Parent/Teacher/Student Conferences
November 17 - School Council Meeting 3:30 pm
November 19 - Professional Development 12:02 dismissal for Grades 1 - 8 No Kindergarten classes
Caribou Kids Season Ski Pass at Banff Mount Norquay
Yes! Banff school students will enjoy free (almost) skiing again this winter!!! In its 15th year, Banff Lodging Co and Banff Mount Norquay remain committed to offering the Caribou Kids Season Ski Pass program for students enrolled at Banff schools, even as we hope to rebound from recent challenging economic conditions. Please click here for more information and the Norquay form.
BES Council Purdys Chocolates Fundraiser
School Council is fundraising with Purdys Chocolates - just in time for the holidays. If you would like to support School Council initiatives by purchasing some sweet gifts for your family and friends, please click on this link: https://fundraising.purdys.com/1411435-89463
After you have signed in, you can purchase amazing chocolates and invite others to join and support our fundraiser. Order deadline is Sunday, November 21 and your orders will be ready for pick up at the school on Monday, December 6. More pickup details to follow.
BES Council Representatives
BES Council is always looking for more parent involvement to ensure everyone is well represented to share their ideas and have a voice. We currently have the following parents serving as our Division representatives. If you cannot make it to our monthly meetings, please reach out to them should you have anything you wish to be brought up, shared or addressed as this is their main role.  We would love to have some kindergarten parents take part in our BES Council meetings! Our next virtual meeting is on Wednesday, November 17, 2021 at 3:20 pm.
Division 1: 
Stephanie Ferracuti (Kindergarten): stephanie.ferracuti@gmail.com 
Kristen McCutcheon (gr. 1): kristen@banffadventures.com
Brooke Wilson (gr. 2-3): brooke21wilson@gmail.com
Division 2:
Alex Eaton (gr. 5-6): alexeaton2525@gmail.com 
Division 3:
Laura Ouellette (gr. 7): lauraouelette80@gmail.com
Sue Hughes (gr. 8): shughes2014@outlook.com
Last Call for Jars to Honour Veterans' Graves at the Old Banff Cemetery.
Thank you so much to all of you who have donated jars to this event. We still need about 150 more glass jars. So, search your recycling for pasta, olive, pickle jars or if you work or know someone who works at a restaurant that might have these, please send them along. The jars will have candles in them to be lit on the evening of Nov. 10th. We would like each grave to have at least one candle. Thank you!
Town of Banff Children & Youth Programs
The Town of Banff offers a variety of programs for children and youth, including Out of School Care. For more information or to register your child, please call 403 762-1251 or visit https://banff.ca/195/Children-Youth.
News from the Office
School Fees
Banff Elementary School fees are available on PowerSchool Parent Portal and are now due. Debit or credit card payments can be made online through your Parent Portal https://powerschool.crps.ca/public/. As per Canadian Rockies School Division's Administrative Procedure 503, payment for school fees is due 30 days after invoicing. Please contact the school office to make payment arrangements if unable to pay by October 29, 2021.
2021-2022 Demographic Update
Thank you to those who have already completed the 2021-2022 Annual Demographic Update.  If you have not already completed the update, please log into your PowerSchool Parent Portal account and click on SchoolEngage on the left side bar at the bottom. Once you have signed in to your SchoolEngage account, click on the bell at the top right hand corner. You will see the incomplete forms in blue. Please contact the school office if you have any questions.
School Events Calendar
Please click here to view the BES Community Calendar
| | |
| --- | --- |
| Nov 11, 2021 | Remembrance Day - School Closed |
| Nov 12, 2021 | School Closure in lieu of Parent/Teacher/Student Conferences |
| Nov 17, 2021 | School Council Meeting - Virtual Meeting |
| Nov 19, 2021  | Professional Development, 12:02 dismissal for Grades 1 - 8 No Kindergarten classes |
| Nov 21, 2021 | Purdys Chocolate Fundraiser Order Deadline |
| Nov 26, 2021 | First full day Friday for Kindergarten students |
School and Family Wellness Worker
Ashley Butenschon is here to help support families and students with their social and emotional well-being. Please contact her at 403-762-4465 ext 6089. One more way Canadian Rockies School Division is here to help support not only your child, but also your family.
Right from the Start
Right from the Start continues to provide programming around mental wellbeing to all students at BES. Some common topics this week included size of the problem, our brains, and everyday consent with the YWCA. As always, we can be reached by emailing Success Coaches Megan.Jenniex@crps.ca or Kathleen.Wiebe@crps.ca. You can check out our website and newsletter for resources, and more information on our programming or find us on social media!
Settlement Services
Settlement Services provides Permanent Residents of Canada, Live-In Caregivers and Refugees with the support they need to settle in the Bow Valley.  Please click the link for the Settlement Services November Newsletter. More information about Settlement Services and a calendar of events is available at: www.banff.ca/settlement or follow on Facebook: www.facebook.com/settlement.services.in.the.bow.valley.

You can also check out our School Announcements here (this is updated frequently) for more information. Please like us on Facebook for news and reminders.

Please follow CRPS on Facebook, and Follow/Tag us on Twitter, so you can stay up-to-date on all CRPS school related issues, updates and information.